El Gordo: Spain goes crazy for "The Fat One"
Comments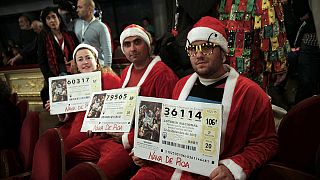 Spain's annual Christmas lottery draw is held on Tuesday in Madrid.
Drawing winners for El Gordo, or "The Big One", can take up to five hours. Two children present each winning ball to the panel of judges, while singing out the numbers.
But it is worth it – this year's prize fund is 2.24 billion euros.
The excitement of the kids calling out the #LoteriaDeNavidad#ElGordo is one of our cutest #Xmas traditions #Spainpic.twitter.com/G9mo5baHqA

— Emma Cabrera Bello (@ECabreraBello) 22 Décembre 2015
Spain prepares for El Gordo Xmas lottery regarded as The Fats Just one https://t.co/m5g2y0p6sLpic.twitter.com/FRhtkqKXb0

— SapyNews (@SapySportsNEWS) 22 Décembre 2015
One set of balls corresponds with lottery ticket numbers.
The second refers to differing amounts of prize money.
You need both to know if and how much you have won.
Queues form overnight
Massive lines for "El Gordo" – the world's biggest lottery that pays out over $2 billion
https://t.co/HMWQ8MbcVYpic.twitter.com/ofpm546TRb

— 13WHAM (@13WHAM) 20 Décembre 2015
The queue outside the Teatro Royal this morning. Will be inside as €2.24 billion is divided up #ElGordopic.twitter.com/yghgSwJfja

— Pablo Foley Elias (@pablofoleyelias) 22 Décembre 2015
Spain's annual Christmas lottery El Gordo handing out $2.43B, and the lines are forming – https://t.co/HChOOIYUf9pic.twitter.com/eDapTmfnss

—

CBS

News (@CBSNews) 20 Décembre 2015
People queued overnight outside the Royal Theatre in Madrid to be in the audience for the draw.
"I have been coming for the last four years,"said one woman, "and this year I chose to come as a lottery roller so I can pick the winning number for myself."
Spain's Christmas lottery began in 1812 and has become an annual tradition.