Diplomats say peace talks on Syria likely to begin in mid to late January
Comments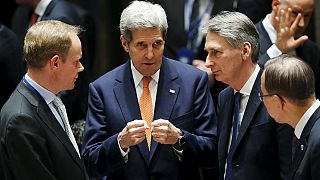 The Syrian President and his wife have visited a church in Damascus, just two kilometres from an area held by rebels and not far from where mortars fell just hours earlier.
If 80% are hitting opposition rather than Daesh, it's a challenge, and we're trying to resolve that, so we can cooperate
This as the UN Security Council overcame past differences and approved the time-frame and conditions for international peace talks on Syria.
But there is still no agreement on the future of the Syrian President, Bashar al-Assad, and who will represent the opposition at ceasefire negotiations.
Sergei Lavrov, the Russian Foreign Minister, said: "I do not think that everyone who is there on the ground should be invited to participate in the talks.
"Those who should be invited are only Syrians that represent the opposition – the armed opposition who are patriotic. But not those who are implicated in terrible actions perpetrated by ISIL or al-Nusra."
John Kerry, the US Secretary of State, said: "There are still some issues that we're trying to work through, and one of them is the percentage of the Russian strikes that are actually going after the opposition, versus Daesh (ISIL).
"And so, we're trying to work on that. But if 80 percent are hitting opposition rather than hitting Daesh, it's a challenge, and we're trying to resolve that, so that we can cooperate."
After almost five years of conflict that has killed more than 250,000 people, diplomats says the peace talks are likely to start in mid to late January.
Details on who will monitor any eventual ceasefire is also still to be worked out.