Pablo Iglesias, joker with the king, serious with Spanish Podemos voters
Comments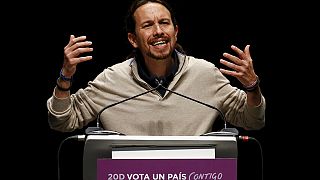 Pablo Iglesias grew in stature as he campaigned. After a slump in voter opinion, his star rose steadily. With his pony tail and beard and supermarket clothes, he excels at lambasting his adversaries, as elitists, members of a caste or 'lords of the past'.
He was an unknown until the Podemos party he leads won five European Parliament seats in those elections last year. The 37-year-old professor of political science and sociology in Madrid took his place in Brussels.
He displayed a flair for publicity; when Spanish King Felipe visited the parliament this year, Iglesias gave him a present: a box set of Game of Thrones. Then he quit, in October, to focus on his party's campaign for the election in Spain.
Podemos means 'we can'. The party embodies best ordinary Spaniards' frustration with inequality, corruption, the economic crisis and austerity policy.
Iglesias promised: "This will be the year of change! We're going to beat the conservatives in these elections!"