The fifth anniversary of the Arab Spring marked in Tunisian town of Sidi Bouzid
Comments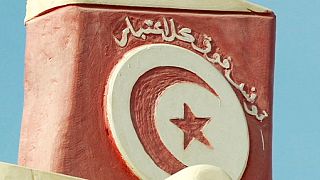 It is five years ago that Mohamed Bouazizi, a vegetable-seller in the Tunisian town of Sidi Bouzid set alight to himself. His anger had been building after years of police harassment. The Arab Spring was born.
The ceremony marking the anniversary of his action came after the Nobel Peace Prize was awarded to what is known as "The Quartet" in Tunisia.
The group is a coalition of civil society groups which came together in the summer of 2013 when Tunisia was at the crossroads between democracy and violence. i
"After the awarding of the Nobel Peace Prize, we have had numerous meetings with states and institutions to plead for peace, but also to raise awareness among them about the problems of our country, especially regarding the marginalised regions in order to attract investors," explained Houcine Abbassi, Secretary General of the UGTT Union.
The local anti-government protests grew, joined by the country's powerful labour union. By the end of January veteran leader President Zine al-Abidine Ben Ali had fled to Saudi Arabia.
Social media helped swell the demonstrations into a tidal wave which swept across the region, to Egypt, Bahrain, Yemen and Libya.
Tunisia has completed a transition to democracy and five years on still faces many challenges. It has seen three major Islamist attacks this year, two of them on its vital tourist industry while economic growth has been slow.