Libya's rival factions sign up to UN-brokered peace deal
Comments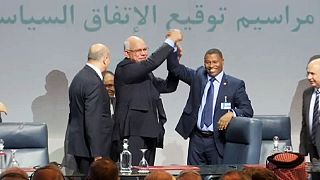 Both sides from Libya's warring factions have come together to sign a UN-brokered peace deal.
Four years after the fall of Muammar Gaddafi, Libya had split with two rival governments – a self-declared one in Tripoli and an internationally recognised one in the east.
After more than a year of intense negotiations, the UN has proposed a unity government along with a ceasefire that will open the way for international aid and training to rebuild the shattered state.
Martin Kobler, the UN Special Envoy for Libya, said: "From today, the agreement puts in place a single set of legitimate institutions, essential building blocks towards a peaceful, secure and prosperous Libya. Your presence here today shows your commitment to a restarted Libyan, democratic transition."
The accord flew in the face of resistance from hardliners on both sides with critics questioning how armed factions on the ground will react to the new accord.
"It is in the nature of this agreement that nobody is entirely happy," added Kobler. "We have 75% of people who are happy with it. But I think it's a good start."
Representatives from both parliaments, local councils and political parties were in the Moroccan coastal resort of Skhirat to sign the deal.
The UN is hoping the new agreement will help in the fight against a growing Islamic State presence in the country.
#Libya: celebrations in #Misrata after the #HoR and #GNC signed the peace agreement in #Skhiratpic.twitter.com/a08WHkF9XV

— Thomas van Linge (@arabthomness) December 17, 2015