IMF chief Christine Lagarde vows to fight court decision that she stand trial
Comments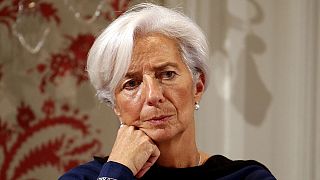 Christine Lagarde, the head of the IMF, has said she will appeal a court's decision that she must stand trial for her role in the payment of 404 million euros (437 US dollars) to a French businessman.
Lagarde's lawyers has said the decision was "incomprehensible" and that she acted in the best interest of the French state and in full compliance of the law.
The ruling concerns Bernard Tapie, who won French government compensation after selling his majority stake in the sports company Adidas to Crédit Lyonnais in 1993.
He claimed the now defunct bank had defrauded him after it later resold his stake for a much higher sum.
His case was referred to an arbitration panel by Lagarde, who was the finance minister in the Nicolas Sarkozy government at the time.
The panel later subsequently awarded Tapie the money, causing public outcry.
Earlier this month, a French court dismissed Tapie's demand for a further payout of over a billion euros ordering him instead to pay back the original compensation.
Lagarde received the support of the current French finance minister, Michel Sapin, who said the court's decision should not prevent her from carrying out her IMF role.
"She's innocent until proven guilty, so I don't see how this should prevent her from carrying out her current duties," said Sapin.
Statement by Lagarde's lawyer on the negligence case: pic.twitter.com/7Z1Uz4ZE8h

— Andrew Mayeda (@amayeda) December 17, 2015