FIFA scandal: Blatter claims innocence at ethics hearing
Comments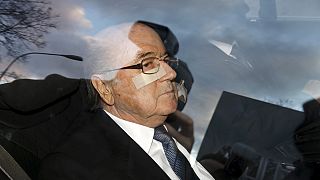 Suspended FIFA president Sepp Blatter returned to the headquarters of football's world governing body on Thursday for the first time since being handed a 90-day ban by the organisation's ethics committee.
The 79-year old Swiss was at the building in Zurich to appear at a corruption hearing regarding a 1.8 million euro payment he made to Uefa Chief Michel Platini in 2011.
A payment that prompted Swiss authorities to open criminal proceedings and a FIFA ethics investigation.
At the hearing Blatter claimed his innocence and demanded he be allowed to resume his role at the head of governing body.
If found guilty of corruption Blatter faces a life-time ban from football.
Platini, who was hoping to run for the presidency in February, is also suspended pending a full investigation into the pair's conduct but refused to attend the hearing saying the process against him is purely political.