US Army decides Sgt Bowe Bergdahl will face court martial
Comments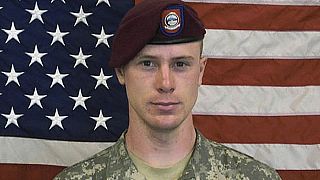 The US Army has decided that Sergeant Bowe Bergdahl will face a court martial on charges that he walked away from his unit in Afghanistan. If convicted, he will face life in prison.
Bergdahl was held captive by the Taliban for five years. A military expert said he was confined in a metal cage barely big enough to stand in.
His was dramatically freed last year in exchange for five Taliban leaders who had been held in US custody at Guantanamo Bay.
He was charged with desertion and endangering US troops involved in the search to find him.
Controversial U.S. Army Sgt. #BoweBergdahl to face a court-martial https://t.co/2qaAm0ZGkMpic.twitter.com/Dt6Hwm4kY2

— Yahoo News (@YahooNews) December 14, 2015
Bergdahl recently compared himself to the fictional rogue CIA agent Jason Bourne and said he wanted to show the world that he was the real thing.
The head of the Army team that investigated Bergdahl has reportedly said he does not believe he should be imprisoned.
The date for his desertion hearing at Fort Bragg in the US state of North Carolina will be announced at a later date.