Poland calls for extension of EU sanctions on Russia
Comments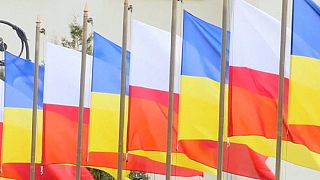 The Polish president has called for an extension of EU sanctions imposed last year on Russia over the Ukraine crisis.
Andrzej Duda was in Kyiv meeting with his counterpart Petro Poroshenko.
The EU is set to agree to a six-month sanctions rollover on Friday, but Italy's prime minister wants to discuss the issue with his fellow leaders in Brussels before they are extended.
Euronews correspondent in Kyiv Sergio Cantone reported: "The question is not just about the sanctions against Russia, but also about the implementation of the Minsk agreement. Especially because next January the association agreement between the EU and Ukraine, which sparked this crisis two years ago, will be adopted."