Call South Sudan's leaders to account on child soldiers says report
Comments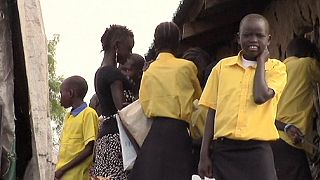 The army base at Pibor in Southern Sudan is new, within a stone's throw of the school whose classrooms its soldiers occupied for several years until recently.
On the second anniversary of the start in the conflict in the world's newest country its birth-pains are deep and ongoing. These children and thousands like them, say Human Rights Watch in a report just published, have suffered abuse and recruitment as child soldiers, and South Sudan's leaders on both sides should help end their use by suspending guilty commanders.
"They come in the classroom. When we ask why they say, 'What do you think?'" said one pupil at the Girls' school.
The soldiers may have gone, but they lurk in the background, a law unto themselves; protectors while at the same time predators.
"South Sudan's army has actually issued a military order prohibiting their soldiers from using a school for military purposes. Unfortunately, our research shows that these orders
are seldom enforced. It is now time for the South Sudanese army to hold commanders who violate this order to account," says HRW's Deputy Director of the Children's Rights Division Bede Sheppard.
Education is hanging on by its fingernails here. The fact that it survives is testament to these people's determination that it should, in whatever circumstances.