'Une petite surprise' for France's far-right National Front
Comments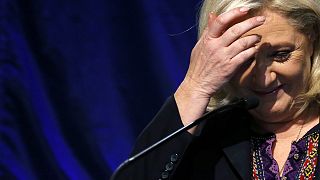 France's far-right National Front has failed to win the big breakthrough it was hoping for in Sunday's (December 13) local election run-offs after making massive gains in the first round of voting.
The right-wing Republicans finished ahead of President Francois Hollande's governing left-wing socialists.
The reactions were mixed on the streets of Paris on Monday (December 14).
"On the one hand we have avoided the tidal wave of the far right, on the other hand, because it is quite mixed – I think there are these regions which went to the right [Conservatives], and 5 for the left [Socialists] – I quite like that it is half-and-half in both senses," said one woman.
"Listen, I am a bit disappointed in the mental spirit of the French people and their reaction to the events which happened to us in the last weeks… to run to the extremists, I don't think that is a very intelligent reaction, or a constructive one," said a man.
Many left-wing voters supported the conservatives in the run-off elections to keep the National Front from winning.
"It's political manoeuvring," said one National Front voter. "Everyone positioned themselves against them [National Front]. I am a bit disappointed that's all, but we will see."
Party leader Marine Le Pen has high hopes for the French presidency in two years.
Opinion polls have shown support for her may be strong enough for her to make it to the second round. Analysts say that the party's next challenge is to gain enough support to stand a good chance in a possible run-off vote.