France's far-right fails to win a single region in elections
Comments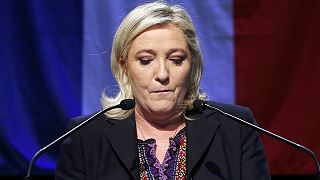 There was applause for the leader but the indications are France's far-right National Front has failed to win a single region in the second round of elections.
It won more votes than than any other party nationally in last week's first round boosted by fears of security and the refugee crisis.
No power for Marine Le Pen who failed to get elected but the party's popularity is on the rise.
"Compared to the last regional election in 2010 our share of the vote has gone from 9.17 percent to 30 percent in the second round five years later. The Front National is now the leading opposition force in most regional councils of France," she told supporters.
The polls predict seven regions for the centre-right Republicans and five for the ruling Socialists.
Tactical voting handed power to the centre-right in key regions targeted by the FN including in the north and south-east of the country.
"The mobilization in favour of our candidates in the second round shouldn't make us forget the warnings that were sent to all political leaders, including us, during the first round of these regional elections," said Republican party leader Nicolas Sarkozy.
The socialists had removed losing candidates from vulnerable seats in the first round and urged their supporters to back Sarkozy's conservatives. The prime minister's rhetoric echoed that of the former president.
"Tonight there is no relief, no triumphalism, no message of victory. The danger of the far-right has not gone away, far from it. I have not forgotten the results of the first round of elections and I measure my responsibility, our responsibility, the responsibility of my government under the authority of the President of the Republic," declared French Prime Minister Manuel Valls.
Analysts saw the run-offs as testing the waters for the 2017 presidential elections with Marine Le Pen hoping to use regional power as a springboard to a presidential bid.
French regions have wide powers over local transport, education and economic development.