Stars descend on Berlin for European Film Awards
Comments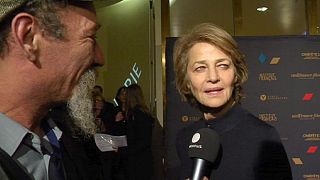 There is glitz and glamour in Berlin, as big names in the movie industry arrive for the the European Film Awards.
German director Sebastian Schipper is among them. His film "Victoria" has three nominations.
Roy Andersson's "A Pigeon Sat on a Branch Reflecting on Existence" is in the running for four awards.
British-born actress Charlotte Rampling is up for best actress. She is also set to receive a lifetime achievement award.
"For a very long time, right in my early twenties, I had a feeling that I wanted to be a European, and I wanted to explore what Europe is through the films I did, which in fact I did," Rampling told euronews.
Rampling's film partner Tom Courtenay is nominated for his role in Andrew Haigh's "45 Years," which is about a marriage in crisis.
Meanwhile, comedy-drama "Youth" from Italian director Paolo Sorrentino has five nominations.
Speaking from Berlin, euronews reporter Wolfgang Spindler said: "Tonight (Saturday), the 'creme de la creme' of European cinema will come together in Berlin – 900 guests will be here when Europe's top film awards are given out."
For a full list of nominations, click here to go to the European Film Awards website.