Spanish embassy guard among dead in latest Taliban attack in Kabul
Comments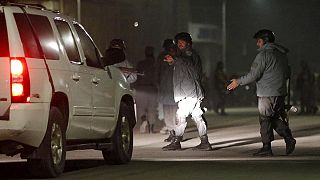 The Afghan authorities say one Spanish and one Afghan guard were killed and two Taliban militants perished in an attack on a guest house near the Spanish embassy in Kabul. A third was wounded and captured. At least seven other people were taken to hospital.
The attackers detonated a car bomb and then exchanged fire with security forces who surrounded the supposedly safe zone. But for Spain's prime minister his country was not the target.
"The attack was not against the Spanish embassy in Afghanistan and that wasn't the intention. The Taliban said it was an attack against what they called "invader" guest houses that were very close to the embassy," said Mariano Rajoy.
Spain pulled its last troops out of Afghanistan in October.
The attack comes just two days after a day of heavy fighting was needed to dislodge a Taliban assault force from Kandahar, but not before they had left 50 people dead.
Attempts are being made to restart peace talks between the government and the Taliban, but its leadership is less certain as infighting is creating divisions, making negotiations more complex.