Taliban claims car bomb attack near Spanish embassy in Kabul
Comments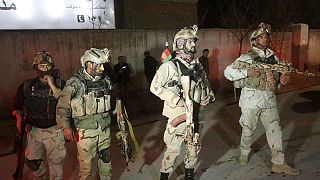 A guest house in the Spanish embassy compound in the Afghan capital Kabul has been struck by a car bomb. The Taliban claimed responsibility for the attack on what it called the "invaders", which security forces say involves at least three insurgents.
A gun battle is underway in the vicinity, and armoured cars have sealed off the city district, infiltrated despite heavy security. Media reports say at least two Afghan guards were killed and at least seven people have been hospitalised. Spain pulled its last combat troops out of Afghanistan in October.
The attack follows a day of fighting in Kandahar only ending on Wednesday when 50 soldiers and civilians died.
President Ashraf Ghani has only just returned from a regional peace conference in Islamabad, designed to help revive peace talks with the Taliban. Along with the latest attack Ghani needs to find a new head of Intelligence, as he resigned on Thursday. The resignation suggests divisions in Afghanistan's security apparatus are deepening.
The Taliban is currently disrupted by internal struggles but it retains a murderous capability to strike at will.