Syrian opposition groups begin talks in Riyadh
Comments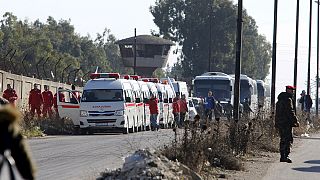 As one of the largest meetings of Syrian opposition groups and fighters met in Riyadh for three days of talks as part of efforts to unite anti.Assad regime forces, Qatar's leader urged them to find common ground.
Emir Sheikh Tamim bin Hamad al-Thani made his remarks during a separate meeting of the Gulf Cooperation Council.
"We urge the sides of the Syrian opposition to rise to the level of responsibility and to use this golden opportunity to unify their ranks and coordinate their steps beyond setting up a negotiating team."
The opposition talks mark an ambitious attempt to pull Assad's enemies around a joint political platform, seen as a crucial step towards ending the conflict.
The meeting in Riyadh has brought together publicly for the first time more than 100 Syrian political figures. They include members of the main opposition umbrella group the Syrian National Coalition and the Western-backed rebel gathering known as the Free Syrian Army, as well as representatives of some of the largest Islamist rebel groups such as Ahrar al-Sham and the Army of Islam.
Leaders of the Syrian National Coalition said the goal of the talks was to reach consensus on a document outlining a set of principles that will form the basis of a joint negotiating position in talks with the regime scheduled to take place in January.
Next month's formal negotiations are part of a road map agreed to last month in Vienna by world powers like Russia and the U.S. as well as regional rivals Iran and Saudi Arabia. The U.S. and its Western allies are eager to reduce fighting between the regime and its opponents and launch peace talks as their priorities in Syria have shifted from toppling President Bashar al-Assad to destroying the extremist group known as Islamic State, which controls large swaths of Iraq and Syria.
Meanwhile the Syrian regime and its allies strengthened their control over the central city of Homs on Wednesday (Dec 9) with the evacuation of several hundred fighters from the last rebel-held neighborhood. The pullout was part of a deal supervised by the United Nations.
And elsewhere, in the Syrian town of Aleppo, unverified footage was released of what was said to have been the aftermath of Russian air strikes. Locals said a missile targeted a bakery.