Syria: opposition 'milestone' agreement paves way for government talks
Comments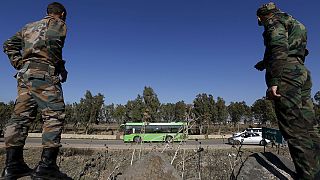 Powerful rebel group Ahrar al-Sham has reportedly signed up to a Syrian opposition statement after two days of negotiations in Riyadh.
Political activists and rebels have agreed to set up a joint body to prepare for proposed peace talks with the Syrian government.
It came as rebel fighters and their families pulled out of Homs under a local ceasefire agreement.
American says the Riyadh statement is significant.
"This was an important milestone in getting to a place where, in early January, they can actually begin to have political negotiations with the regime," said John Kirby, US State Department spokesman.
"This was a critical first step of getting there."
The statement says President Bashar al-Assad should leave power at the start of a transitional period. It also calls for an all-inclusive, democratic civic state.
Earlier, Ahrar al-Sham said that it had pulled out of the Riyadh talks – objecting to the involvement of a political opposition group, considered to be pro-Assad. Later, it reportedly rejoined the negotiations.
Syria's war pits the country's army and allied militias, including Lebanese Hezbollah fighters backed by Iran and Russia, against an array of competing rebel and jihadi fighters – who include Arabs and Kurds.
Rifts among Assad's opponents have hindered four years of Western efforts to mobilise a stronger political and military challenge to the president throughout a conflict which has killed 250,000 people and driven millions of refugees abroad.
The Riyadh meeting came amid escalating conflict in Syria and accelerated diplomacy to find a political solution to the war.