Argentina's Christina Fernandez bids farewell as president
Comments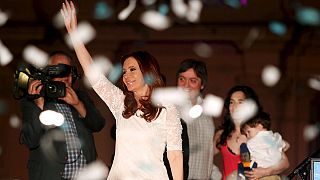 Outgoing Argentine president Christina Fernandez de Kirchner urged her supporters not to let her legacy be destroyed as she bid farewell during a rally in Buenos Aires.
It marked an emotional end for some of 12 years of leftist populism under Fernandez and her later husband and predecessor Nestor Kirchner.
On Thursday, conservative Mauricio Macri, who won a run-off election last month, will be sworn in as president.
Fernandez is revered by many Argentinians for expanding welfare benefits, nationalising some companies and introducing new civil rights like gay marriage.
Her critics say she she created a handout culture and choked Latin America's third largest economy with interventionist policies.
Macri says he will remove state controls on the economy and conduct more 'orthodox policies'.
Argentina Says Goodbye to President Fernandez https://t.co/6LAwKa0Zwt#news

— ChavezNews (@ChaviztaEu) December 9, 2015