UAE Energy Minister Suhail Al Mazroui: "We will not rely on oil"
Comments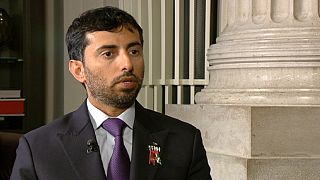 Faced with the challenge of a declining oil market The United Arab Emirates, a major crude producer in the Gulf is striving to diversify its economy, and reducing its reliance on oil revenues. Suhail Al Mazroui, the UAE's Energy Minister talked to euronews' Daleen Hassan.
Daleen Hassan euronews:"UAE Energy Minister, Mr. Suhail Al Mazroui welcome , and let us start with the issue of the moment, oil prices. Despite the sharp decline in prices, OPEC has maintained its policy of high production. Could you explain that decision in detail?"
UAE Energy Minister, Suhail Al Mazroui:"I think we should go back and explain the decision taken by OPEC last year, which is to let the market set the price. We are the producers with the lowest production costs. We need to maintain our production levels and we should enter the market before the high cost producers and this is a normal market situation. We see that OPEC decision will lead the market to stabilization, the market will find the balance and we expect next year to be a year of balance.
'I want to mention the result that OPEC got from this policy. Between 2013 and 2014 the non OPEC oil producers pumped 2.8 million barrels per day of an increase in production into the market, and if we compare this figure with their output between 2014 and 2015, we find that non-OPEC producers dropped their over production level by 88%.
'However we have a problem in that we have a lot of projects in exploration and production which have been postponed or cancelled, the cost of these projects is estimated to be about 150 to 200 billion dollars. If all producers decide to reduce their output who will produce the oil?"
Daleen Hassan, euronews: "We have heard that there was a division, let's call it a difference of views among the two teams at the OPEC meeting. The United Arab Emirates and Saudi Arabia were on one side, Iran, Venezuela and Algeria on the other. Why was the proposal of Venezuela to take action to stop the decline in oil prices not taken into consideration?"
UAE Energy Minister Suhail Al Mazroui: "First of all we came to meet with views and to discuss them. But at the end we didn't disagree. There are some kinds of oil from outside OPEC, the production of this oil should be controlled, and there should be appropriate extraction costs. We do not want to reach what happened in 2015, where many projects were cancelled and there was reluctance to invest in the field of oil, gas, and that is something about which we are concerned.
'Well, in OPEC the conviction among members may vary from country to another country however it's sure that we have the right to be in the market as others have also the right to be in the market.
Daleen Hassan euronews : "But Minister it is a painful decision for the Gulf States , a lot of these countries budgets are reliant on oil revenue, how you will manage this decision?"
UAE Energy Minister Suhail Al Mazroui: "Cutting production and targeting a certain price is no longer a successful policy. Today certain prices could hurt a lot of us, but this is an opportunity also to reduce the cost and to build diversified economies and remove our reliance on oil and we in the United Arab Emirates, we started to diversify the economy many years ago."
Daleen Hassan euronews: "I want to ask you about that policy. The UAE was one of the first of the Gulf countries to say it would take action to diversify sources of income, would you tell us about your plans to diversify sources of income in the country?"
UAE Energy Minister Suhail Al Mazroui :"We were dependent on energy sources, on fossil and gas in power generation. Today the Emirates has adopted a different policy. In 2021 we will have about 30% of power generation from green sources, which don't emit carbon dioxide, sources of non-oil either nuclear energy or renewable solar energy.
'This policy is part of the diversity in energy sources and is also an important part of diversity in the economy. Our national economy is now diverse with more projects in the tourism industry, and also the United Arab Emirates now has a manufacturing base in the petrochemical sector.
'Projects within the UAE or the projects owned by our sovereign investment funds outside the UAE, this diversity is what will enable us to celebrate the export of the last barrel of oil. As His Highness Sheikh Mohammed bin Zayed said "We want to build a generation capable of celebrating the export of the last barrel of oil", we will not rely on oil, we will diversify the economy and continue with this strategy."
Daleen Hassan euronews: " In July this year you lifted fuel subsidies, are there any similar actions to cut some other government subsidies?"
UAE Energy Minister, Suhail Al Mazroui : " Well the markets were not well balanced and the government was bearing the burden of distribution companies and they bore many other burdens which led to the increase in consumption, pollution and to other things. I believe that we must take advantage of the crisis, it presents opportunities for us."
Daleen Hassan euronews : "By crisis you mean lower oil prices?"
UAE Energy Minister, Suhail Al Mazroui : "The economic crisis and low oil prices".
Daleen Hassan Euronews: "Lower demand?"
UAE Energy Minister, Suhail Al Mazroui: " Yes, the decline in demand in 2015, so we have made radical economic reforms, removing subsidies on petroleum derivatives entirely, and putting in place a new policy, that I do believe is successful. We are continuing with reforms relating to fuel and other types of energy.
'We are working to rationalize the use of electricity and water, we have a strategy that we are working on now. The good thing is that consumers in the UAE are collaborating with us, as we follow a policy of transparency in explaining the topic to them, so everyone is cooperating with us in terms of changing consumption patterns, either on the demand side management or the pricing side."