Police remove hundreds of migrants blocked at Greek-Macedonian border
Comments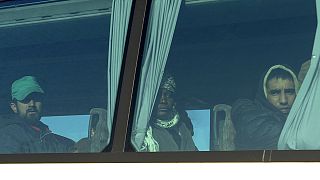 They have been stranded on the Greek-Macedonian border for weeks, hoping to reach northern Europe, but Greek police have today begun to remove them.
The last images of the migrants were from last Sunday, showing the rising tension as hundreds of people demanded to cross the border.
Some reports say journalists have been kept away from today's police operation.
The migrants, mostly from Pakistan, Morocco and Iran, are expected to be taken to Athens on buses and then on to migration centres for processing.
Those not able to convince authorities that their claims for asylum are justified, are likely to be repatriated to their home countries.
Macedonian authorities have put up a metal fence to keep migrants out and plan to extend it.
Meanwhile, there is another migrant tragedy at sea, with the Greek coastguard recovering the bodies of 11 people, including five children.
The wooden boat they were in sank off the island of Farmakonisi.
Officials say they managed to rescue some 23 people, but 13 others are still missing.