Migrants: fences, funds and claims of discrimination
Comments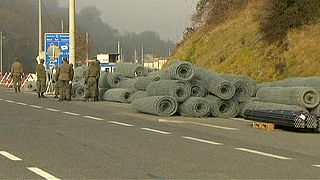 Work is getting underway on a wire fence to control the flow of migrants from Slovenia to Austria.
This is the first time a barrier has gone up between two Schengen member countries.
"Einreiseleitsystem": In #Spielfeld beginnen 38 Bundesheer-Pioniere #Zaun-Rollen aufzubauen. https://t.co/GLFqTYRwITpic.twitter.com/bI2hPtxQsT

— Ö1 Journale (@oe1journale) December 7, 2015
Spielfeld Startschuss für Zaunbau! https://t.co/nf8BafHN9opic.twitter.com/ac3fzYckCt

— Franklin (@F_S_Berlin) December 7, 2015
Four kilometres from the border, 3.7 kilometres long and more than two metres high, the Austrian authorities say it is well within the agreed guidelines.
The Former Yugoslav Republic Of Macedonia
Tensions high at Greek-FYROM border https://t.co/08KlvRFIHzpic.twitter.com/XLLxbi49EV

— Kathimerini English (@ekathimerini) December 3, 2015
At the border between Greece and the Former Yugoslav Republic of Macedonia. The human flow is met with questions.
Greece-FYRoM border is tense w/ protests & sporadic rioting by stranded #migrants & refugees https://t.co/A3w7nEx10Bpic.twitter.com/FlOgUiRYvx

—

IOM

(@IOM_news) December 7, 2015
Only people coming from active conflict zones are allowed to pass. The others can go no further and are stranded.
Pressure group Amnesty International says this amounts to discrimination
Germany reveals record number of migrants
Many of these people are heading for northern Europe and Germany.
Germany: 965,000 migrants seeking asylum in 11 months https://t.co/dNRHvvhOFX

— MarketWatch (@MarketWatch) December 7, 2015
Berlin says more than 206 thousand people arrived in the country in November – a record number that brings the total since January to more than 964 thousand.
UN appeals for money
In Geneva, the UN has launched a major appeal for increased humanitarian funding.
"The appeal for humanitarian funding is urgent as Syrians continue to flee" melissarfleming</a> <a href="https://t.co/hItaZISMDL">https://t.co/hItaZISMDL</a> <a href="https://t.co/EcfU0vwLx6">pic.twitter.com/EcfU0vwLx6</a></p>&mdash; UN Refugee Agency (Refugees) December 7, 2015