Another border fence in Europe ahead of crucial migration summit
Comments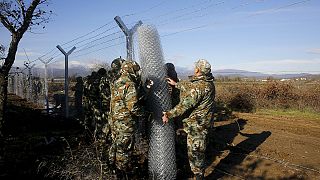 Police in the Former Yugoslav Republic of Macedonia on Saturday fired tear gas and stun grenades at migrants and refugees stranded for days on its southern border with Greece, as they try to make their way to western Europe.
Tensions reached boiling point as Macedonian security forces began erecting a metal fence along the frontier.
As Europe's worst migrant crisis since World War Two continues, the Macedonian government says it won't seal off access to refugees fleeing war.
A government spokesman said the aim of the fence was "to direct the inflow of people towards the controlled points for their registration and humane treatment."
"We would like to underline that the border will remain open," said spokesman Aleksandar Gjorgjiev.
"We will allow passage for the people who come from war-affected regions as we have done thus far."
But along with other countries, Macedonian authorities are now turning back other migrants, leading to a chaotic build-up at the Macedonian-Greek border at the start of the so-called Balkans route.
Human rights groups have criticised the decision, under which only Syrians, Iraqis and Afghans are allowed through.
The UN refugee agency has also highlighted what it says are risks stemming from the new restrictions.
We're concerned people smugglers will profit from new border restrictions in Balkans https://t.co/PcldH7qmGhpic.twitter.com/QBC6CBT4XD

— UN Refugee Agency (@Refugees) 28 Novembre 2015
Days of protests by Iranians, Pakistanis, Moroccans and others stranded in squalid tent camps on the border, erupted into clashes on Saturday. Some Iranians have sewn their lips shut. One man on Saturday threw himself on railway lines before the police, screaming and flailing.
The latest violence broke out after one migrant, believed to be a Moroccan, was electrocuted and badly burned when he climbed on top of a train wagon.
An angry crowd surged towards lines of Macedonian police and began throwing stones, a Reuters photographer at the scene said.
As Europe struggles to stem the flow of migrants and refugees, the woman some blame for encouraging it believes the answer lies with Turkey.
Under pressure at home over an open-door refugee policy that could see a million new arrivals in Germany by the end of the year, Chancellor Angela Merkel told parliament on Wednesday that it is in Berlin's interest for Ankara to accommodate the refugees before they make the journey by boat to the shores of Greece.
She explained that "cooperation with Turkey is required" in order to secure the European Union's external border.
Merkel under pressure from her own ahead of EU migration summit https://t.co/Ikp42UhZH2pic.twitter.com/RE4iYCVrOd

— Reuters Top News (@Reuters) 28 Novembre 2015
But that won't come cheap.
Ahead of Sunday's crucial EU migration summit, diplomats in the bloc say that Ankara is now demanding 3 billion euros a year in aid for the 2.3 million Syrian refugees in Turkey.
The EU has also said it will 're-energise' talks on Turkey joining the bloc and ease visas for Turks visiting Europe.