Criticism of Donald Trump goes global after "ban Muslims from America" comments
Comments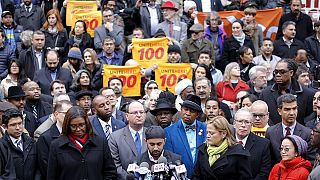 The world has lined up to utterly condemn Donald Trump's threat to ban Muslims from America. Even China condemned the leading Republican presidential candidate, and in America religious leaders have united to slam his latest broadside, which Trump is refusing to take back or soften.
In Britain, whose capital along with Paris Trump claimed had districts in which the police feared for their lives, a petition demanding Trump be barred from the country collected 300,000 signatures in a matter of hours.
"I would invite him to come and see the whole of London and take him around the city, except I wouldn't want to expose Londoners to any unnecessary risk of meeting Donald Trump," said London Mayor Boris Johnson.
Trump has been stripped of an honorary Scottish degree, and told his services as a roving economic ambassador for Scotland are no longer required.
Such has been the outrage some are speculating it may be a watershed moment when people realise Trump is too much of a maverick to be electable. His supporters lap him up, but Republican heavyweights are saying it is time to dump Trump. The next opinion polls will be crucial for his campaign.