Biden criticises Russia's actions in Crimea during Ukraine parliament address
Comments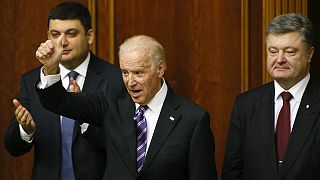 US Vice President Joe Biden has lashed out at Russia, criticising what he describes as its occupation of Ukrainian sovereign territory.
It came as he addressed Kyiv's parliament.
Biden also warned of the consequences if Ukraine doesn't implement reforms and cut corruption.
"Today Russia is occupying sovereign Ukrainian territory. Let me be crystal clear – the United States does not, will not, never will recognise Russia's attempt to annex the Crimea," said Biden.
"But in addition, you also have a battle. An historic battle against corruption. Ukraine cannot afford for the people to lose hope again."
Disagreements between the government and parliament are stoking concerns that Ukraine could stumble in its reform drive.
But Biden's address seems to have been well received.
"He (Biden) mentioned oligarchs, oligarchs who are using the judiciary system now, who are not paying taxes and also corrupted people in the parliament, in the government, who think about their own interest instead of the country's interest," said Anna Hopko, an independent MP.
Yulia Tymoshenko, Leader of the Fatherland Party, added: "The US will not accept the annexation of Crimea. That was the essential part of the statement for us. And we believe and hope that in the near future, Crimea will be returned to Ukraine."
Speaking from Kyiv, euronews reporter Sergio Cantone, said: "So the United States is giving strong support to Ukraine in the conflict against Russia. But, at the same time, they are asking for much more efforts in the fight against corruption."