US urges Ukraine to cut 'cancer of corruption'
Comments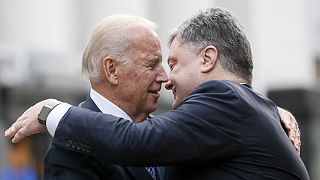 America is urging Ukraine to cut what it describes as the "cancer of corruption."
During a visit to the country, US Vice President Joe Biden said the country still has lots of work to do on reforms. He announced 175 million euros worth of new financial aid to help.
Biden also commented on the Minsk ceasefire deal, amid continuing unrest in eastern Ukraine.
"Minsk can not succeed if Russia doesn't fulfill its commitments, and President Putin fails to live up to the promises that he repeatedly made to my President, to you and to the international community," said Biden.
The Minsk deal aims to end a conflict, which has left more than 8,000 people dead.
The guns have been mostly silent since early September, but Kyiv and separatists continue to report casualties.
"Unfortunately, the war continues. Today, we've had another 14 mortar attacks, eight Ukrainian soldiers have been wounded in the last 24 hours," said Petro Poroshenko, Ukrainian President.
"We can't say there is a de-escalation of the conflict in Donbas."
Euronews reporter Maria Korenyuk said: "It's Biden's fourth visit to Ukraine in two years. On Tuesday, the Vice President will address the Ukrainian parliament.
"America's position on Crimea is expected to be discussed, along with the further implementation of reforms in Ukraine."