FBI focuses on contacts of suspected California killers
Comments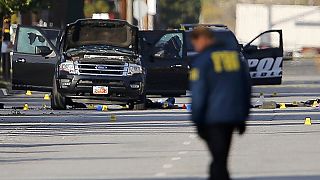 Photographs of Tashfeen Malik and Syed Farook have been released of them entering the US at Chicago airport in 2014 having just visited Saudi Arabia. The FBI believes the couple suspected of massacring 14 people in Southern California last week had been radicalised for sometime.
FBI Los Angeles Assistant Director David Bowdich gave a press conference with the latest updates:
"We do have evidence that both of these subjects did some target, participated in target practice in some ranges in the within the metro area or within the Los Angeles area. That target practice in one occasion it was done within days of this event."
San Bernadino shooting: FBI says attackers Syed Farook and Tashfeen Malik 'radicalised for quite some time' https://t.co/uDqjgtPF6e

—

ABC

News (@abcnews) December 7, 2015
The couple died in a shootout with police several hours after the attack in a conference room at the Inland Regional Center social services agency in San Bernardino, California.
After the couple was killed last week, police said they discovered 19 pipes that could have been turned into bombs at the suspects' apartment in Redlands, a town near San Bernardino, and a dozen explosive devices the two had apparently already constructed at their home.
Farook, a U.S. citizen originally from Chicago, traveled to Saudi Arabia in July 2014 and returned less than two weeks later with Malik in tow. Malik, a Pakistani who officials said spent much of her life in Saudi Arabia arrived on a "fiancé" visa, which allowed Farook to petition for her entry ahead of marriage.
Although there is no evidence that the shooting was part of an international plot, federal officials are urgently trying to track the backgrounds and contacts of the couple.
Meanwhile the political fallout from the massacre as sparked a row after Republican presidential candidate Donald Trump called for a halt to all Muslims entering the US until Congress can act. The Council on American-Islamic relations has responded to the Trump call by saying " we are entering into the realm of the facist now."