Bombs and ammunition found at San Bernardino shooting suspects' home
Comments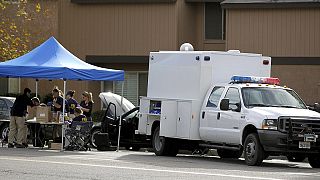 California police say a couple suspected of killing 14 people at a holiday party in San Bernardino had amassed over a thousand rounds of ammunition and a dozen pipe bombs at their home.
Syed Rizwan Farook, 28, and his wife Tashfeen Malik, 27, were killed in a shootout with police around five hours after Wednesday's attack (December 2). It has been ranked as the deadliest instance of gun violence in the US in three years.
No motive has been given for the shootings.
Local authorities have now released the names of those killed. Ranging in age from 26-60, they are mostly men and are all from southern California.
US President Barack Obama offered his condolences from Washington at the National Christmas Tree Lighting ceremony. He also called for flags nationwide to be lowered to half mast as a sign of respect to the victims.
The shootings at the Inland Regional Center social services agency wounded 21 people. Between 75 and 80 people are said to have been in the room when the attack occurred.
Research into gun violence
The incident seems to have provoked Democratic presidential candidate Bernie Sanders to do a u-turn regarding his stance on gun-violence studies. Following the shootings, Sanders came out in favour of funding research on gun violence at the US Centers for Disease Control and Prevention. This came two decades after he voted against financially backing research into firearms injuries.