FBI investigating San Bernardino shooting as "act of terrorism"
Comments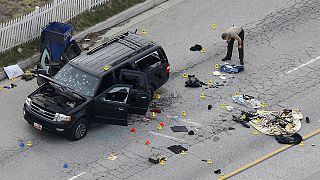 In the United States, Wednesday's (November 2) San Bernardino massacre of 14 people is now being investigated by the FBI as an "act of terrorism."
Investigators found two mobile phones which had been crushed and dumped near the shooting scene. The devices showed "telephonic connections" between the suspects and other people of FBI interest.
The Aamaq news agency, which apparently supports the froup calling itself Islamic State (ISIL) reportedly claimed that ISIL followers carried out the attack.
However the FBI has not revealed any evidence to suggest an ISIL connection.
"As of today, based on the information and the facts as we know them, we are now investigating these horiffic acts as an act of terrorism," an FBI official told reporters.
White House spokesman Josh Earnest spoke earlier about the
scope of the probe.
"Again, there are significant resources, investigative resources that are being dedicated of getting to the bottom of what exactly transpired, to learning as much as we possibly can about the shooters, about their foreign travel, about their foreign contacts, about their use of social media, about their potential motives. And that work is well underway," said Earnest.
Tashfeen Malik and her husband, Syed Rizwan Farook, 28, were killed in a shootout with police hours after the massacre during a Christmas party at the Inland Regional Center social services agency in San Bernardino, about 100km miles east of Los Angeles.
The attack was the deadliest mass shooting the United States has experienced in three years.