A chocolate Putin is star of St Petersburg festival
Comments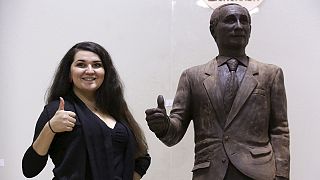 A life-size chocolate sculpture of Russian President Vladimir Putin has been unveiled at the Festival of Chocolate fair in St Petersburg.
The weight of the entire sculpture, including Putin's dog Connie, is around 90 kilos.
The sculptor, Nikita Gusev, has sculpted historical figures such as Joseph Stalin and pop icons like Michael Jackson in chocolate before.
He was first asked to create a chocolate replica of Putin by Mikhail Lyubchenkov, organizer of the St. Petersburg Chocolate Festival, who said he figured Putin should be "immortalised" in chocolate after a similar replica of Pope Francis was featured at the event last year.
Organisers warned that there would be "no touching, licking or biting of any of the statues," at the festival.
After the festival, the sculpture will be not eaten or sold but returned to the workshop where it was made.
Feast your eyes on this life-size CHOCOLATE Putin https://t.co/Mv0W7Y9xV3pic.twitter.com/egbzu6pZnn

— Ruptly (@Ruptly) December 5, 2015