Syria: Air strikes 'kill dozens of civilians' in Damascus rebel stronghold
Comments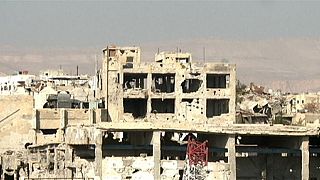 In a rebel-held district of Damascus, rebels are not the only ones being killed by air strikes.
More than 40 civilians in Eastern Ghouta – including six children – died on Friday, according to the Syrian Observatory for Human Rights monitoring group.
It blames the Assad regime. But the opposition National Coalition puts the blame, at least partly, on
Russian warplanes.
On the ground, the civil war continues to rage.
Images uploaded to social media – said to be from Aleppo – showed fierce exchanges of fire, purportedly between Free Syrian Army fighters and ISIL militants.
Back in the capital, the formerly vibrant suburb of Jobar now lies in ruins and abandoned by all but
soldiers loyal to President Assad, whose job is to guard the gateway to his regime.
In some places, the battle has gone underground, with fighters on both sides digging tunnels to get behind enemy lines.
Syria's nearly five year civil war has left more than 250,000 people dead and displaced millions more.
Who's fighting who in Syria? https://t.co/rQyhc6Wam7

— The Independent (@Independent) 2 Décembre 2015