US police name suspects in San Bernadino shootings in which 14 people died
Comments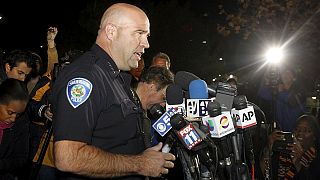 Police in California say they believe the two people who shot and killed fourteen people in San Bernadino were the only suspects involved.
Twenty-eight-year-old Syed Rizwan Farook and 27 year-old woman Tashfeen Malik were both killed in a shoot out with police after the incident on Wednesday.
"He (Mr Farook) was at the party," San Bernadion Police Chief, Jarrod Burguan, told reporters.
"He did leave the party early under some circumstances that were described as angry or something of that nature. That is the information that we were following up on when we encountered him back near his residence in Redlands, which led to the pursuit and the officer involved shooting, and, as we now confirm, he is one of the deceased."
A further 17 people were injured in the incident which took place on the campus of the Inland Regional Center – a facility run by non-profit organisations for people with developmental disabilities.
Relatives say the two suspects were married.
The husband of Farook's sister, Farhan Khan, told reporters of this shock over the shootings.
"I have no idea, I have no idea why he would do that, why he would do something like this. I have absolutely no idea. I am in shock myself."
The two suspects were travelling in a black sports utility vehicle when they were stopped by police, who say they were armed with assault rifles and semi-automatic weapons, as well as being dressed in military style clothing.