Leaders open UN climate conference with good intentions
Comments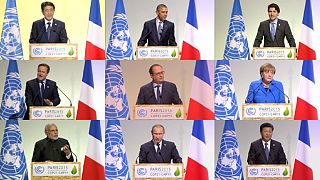 World leaders from around 150 nations ranging from the United States to Tuvalu have opened their Climate Conference in Paris armed with high expectations and promises to act in the fight against global warming.
But before proceedings began there was a minutes silence for the victims of the recent terror attacks in the French capital.
The goal at the conference known as COP21 is to reach a deal within two weeks on reducing global warming to 2C celcius. The emphasis is being placed on new technologies to reduce carbon outputs.
Billionaire Bill Gates was there to launch the Mission Innovation initiative to advance clean energy production. The co-founder of Microsoft and philanthropist was also there to launch the Breakthrough Energy Coalition which is a group of 28 private investors from Silicon Valley to South Africa, that will invest billions of dollars in "patient, flexible risk capital" to bring riskier new technologies to market.
"The increased governmental research and private investment are to address climate change and to reduce the cost of energy, to reduce poverty. We need to move to sources of energy that are even cheaper than the hydrocarbon energy we use today. We need it to be not only clean, but also reliable."
Other members of the Breakthrough Energy Coalition include Facebook Chief Executive Officer Mark Zuckerberg, Alibaba Chairman Jack Ma and Amazon CEO Jeff Bezos.
Day one and best intentions having been declared, divisions are anticipated. The question of how richer nations can help cover the cost of shifting to newer cleaner energy sources and offset climate-related damage is still to be resolved.
The time to #ActOnClimate is now. Let's get to work → https://t.co/wHaMOgp59B#COP21pic.twitter.com/1GbnRyNhqV

— The White House (@WhiteHouse) December 1, 2015