Obama and Hollande sample the delights of French cuisine in Paris
Comments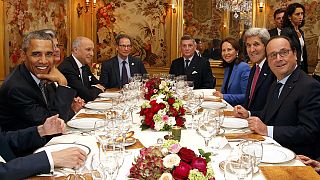 President Obama sampled the delights of Parisian cuisine with French President Francois Hollande in a three-starred Michelin restaurant in Paris.

Pour le dîner, Obama et Hollande se retrouvent à l'Ambroisie, prestigieux… https://t.co/2BJJ8JyB2ppic.twitter.com/yQZzXl3zOG

— NELLY NS2017@ (@C8C57) December 1, 2015
The eatery is not far from the Bataclan music venue where 89 people were killed in the Paris attacks of 13 November
Pres Obama says he'll order whatever Pres Hollande recommends at the pricey French restaurant. pic.twitter.com/db2VDFu32t

— Mark Knoller (@markknoller) November 30, 2015
The pair were joined by other high-ranking officials, in the French capital for the climate change conference. <script
When asked what he was going eat Mr Obama, a fan of burgers and margaritas, said he would follow "recommendations from the president."
#discount Restaurant Merignac : Burger et dessert pour 1 ou 2: Moment gourmand à partager… https://t.co/xzWJpZPq7ppic.twitter.com/aNoe13akxC

— Reductions Promos (@PromosPromos) November 22, 2015
A meal at L'Ambroisie usually works out around €370 per head…of state.

. @POTUS dines tonight at three Michelin-starred restaurant L'Ambroisie, one of the most famous restaurants in Paris pic.twitter.com/0if88IE80h

— Kate Bennett (@KateBennett_DC) November 30, 2015