Paris climate conference: Could world tensions get in the way?
Comments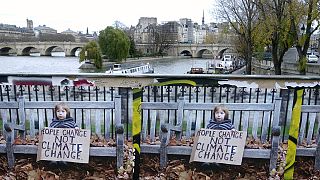 Paris more than most cities knows that these are troubled times – not just for the environment.
And the fear is that a context of war, terrorism and bilateral flare-ups could overshadow the UN climate conference being hosted by the city, to save Planet Earth.
Spelling out the danger, French, Green MEP Yannick Jadot told euronews:
"The risk is we will end up with a diplomatic agreement rather than a climate accord, with international current affairs making us lose sight of what is a good deal as opposed to a weak and feeble one."
But waiting for world events to calm down is not an option.
Action is needed now according to Gyan Chandra Acharya, UN Under-Secretary-General and High Representative for the Least Developed Countries, Landlocked Developing Countries and Small Island Developing States.
"Business as usual is not a solution," he told us.
"We have to really look at climate change in a more holistic manner than before. That is why there is a sense of urgency among all the negotiations and I am sure that it will play very well."
'Never have the stakes of an international meeting been so high' François Hollande addresses #COP21pic.twitter.com/YYjpk4j5rM

— UNOHRLLS (@UNOHRLLS) November 30, 2015
UN-OHRLLS staff arrive at #COP21 with Under Secretary-General Acharya pic.twitter.com/G56AXD2fK8

— UNOHRLLS (@UNOHRLLS) November 30, 2015
Our correspondent at the climate conference, Gregoire Lory, says:
"One after the other, the heads of state who spoke at the tribune at Le Bourget gave resolute speeches, supporting the idea of an ambitious accord. But words will have to lead to actions…Put another way, the negotiations are going to enter a more delicate phase. The international leaders want to keep their promises. The 195 participating countries are going to have to agree in the coming days on concrete commitments."