Pope Francis concludes Africa visit with prayers at Bangui mosque and open-air Mass
Comments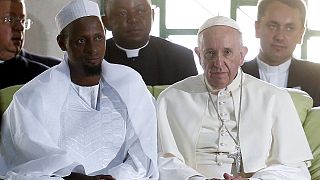 Pope Francis has concluded his mini-African tour with a highly-significant visit to the mosque in the heart of the Muslim quarter of the Central African Republic's capital, Bangui.
The scene of religious unrest in the past, Pope Francis came bearing a message of mutual respect and tolerance, and appeared determined to stress decades of peaceful religious cohabitation.
"Let us remember, Christians and Muslims, members of the traditional religions, lived peacefully for years together," he said.
He was given a rapturous welcome as he toured in the popemobile. There were no signs here of any ideological penetration by Muslim extremists the likes of Boko Haram or al-Shabbab, who have brought misery to many parts of sub-saharan Africa.
"There is peace and strong links between us and the Christians. We want to live as brothers in this land," said one man.
Pope Francis concluded his visit with a huge open-air mass for locals and refugees displaced from conflicts in neighbouring countries. More than 20,000 people packed into the stadium for the event.