Pope Francis brings message of reconciliation to Central African Republic
Comments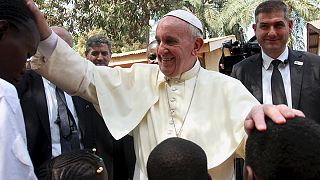 Pope Francis received a rapturous reception in the Central African Republic on Sunday on a visit welcomed by both the majority Christian community and the Muslim minority.
Work, pray, do everything for peace
On his first trip to a war zone, he brought a message of reconciliation, telling those he met at a refugee camp in Bangui: "We are all brothers".
"Work, pray, do everything for peace," he said at the camp.
"But remember, peace without love, friendship and tolerance is nothing. I hope that all Central Africans can see peace."
Bangui, the capital of the former French colony, is the final leg of a first African trip for the Catholic leader that has already taken him to Kenya and Uganda.
The warm welcome comes amid a backdrop of deadly violence between Muslim rebels and Christian militia.
Tens of thousands of cheering people lined the route of his motorcade into the city and the presidential palace for a meeting with interim head of state Catherine Samba-Panza.
Greeting the pontiff, she asked for forgiveness, saying that "hearts had been hardened by the forces of evil".
Speaking slowly in French, he appealed for a "unity in diversity" that shuns divisions along political or religious lines.
I come to the Central African Republic as a pilgrim of peace and as an apostle of hope.

— Pope Francis (@Pontifex) 29 Novembre 2015
Armoured personnel carriers from French and UN peacekeeping forces are helping to protect Francis in the heaviest security ever seen on his travels.
In an unprecedented precaution for papal trips, a UN soldier armed with a rifle rode in each of the mini-busses carrying reporters accompanying the pope.
France, which has around 900 soldiers deployed in the country, warned the Vatican this month that the visit could be risky but Francis was determined to go ahead.
Security by @UN_CAR for Pope's #CentralAfricanRepublic Visit #PopeInCARpic.twitter.com/yvLS31dPrI

— MINUSCA (@UN_CAR) 29 Novembre 2015