Pope Francis celebrates mass with Ugandan faithful
Comments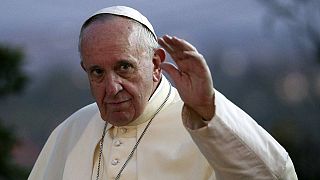 Hundreds of thousands of people have turned out to greet Pope Francis in Uganda.
He stopped off in Namugongo, near the capital Kampala, on the second leg of his African tour.
Francis celebrated mass at Uganda's holiest shrine, where he paid tribute to 19th century Christian martyrs, killed for their faith.
Anglicans and Catholic converts were mostly burned to death. The executions were ordered by King Buganda Mwanga II, who was concerned about the spread of Christianity.
Later, the Pontiff moved onto Kampala, where he headlined a giant rally at an unused airstrip.
Francis leaves Uganda on Sunday for the Central African Republic for the final leg of his African journey.