Pope Francis praises Ugandan authorities for taking in refugees
Comments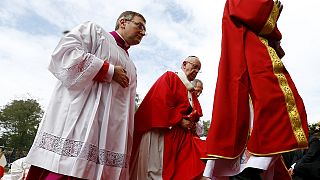 Pope Francis began his first day in Uganda with a trip to an Anglican shrine in Kampala. The sanctuary is dedicated to a group of Christians who were killed by decree of a local king who wanted to stem the rise of Christianity in the 19th century.
Ahead of the visit, he praised the Ugandan president and diplomats for their handling of refugees flocking into the country. Uganda has received half a million migrants from Somalia, Sudan and the Congo.
He referred to the world refugee crisis and said how the world deals with it will be "a test of our humanity, our respect for human dignity and above all our solidarity with our brothers and sisters in need."
The next stop was a Catholic shrine in the capital, dedicated to 22 martyrs.
Thousands spent the night outside for
a glimpse of the pope and large screens were set up to view his mass.
Francis is the third pontiff to visit Uganda, where some forty percent of the population is Catholic.
Tens of thousands of people lined his route into the capital in the biggest crowds of his trip so far.
He will stay in Uganda until Sunday (November 29), when he will move on to the war-torn Central African Republic for the final leg of his three-nation, African tour.
The continent's Catholic population is growing and is expected to reach around half a billion by 2050.