Pope Francis appeals for reconciliation during Central African Republic visit
Comments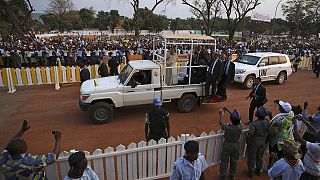 Pope Francis has called for reconciliation, as he visits the divided Central African Republic – a nation racked by bloodshed between Muslims and Christians.
Amid heavy security, he celebrated mass at a cathedral in the capital Bangui.
The Pontiff appealed to warring militias to lay down what he described as their "instruments of death."
There needs to be "reconciliation, forgiveness, love and peace," he said.
On Sunday, he added an unscheduled visit to his itinerary, stopping by at a hospital to meet sick children. He blessed the patients and greeted their families.
The most dangerous part of the Pope's visit comes on Monday, when he travels into Bangui's PK5 Muslim enclave and visits its central mosque.
The neighbourhood, epicentre of a fresh surge in violence, is encircled by Christian militias who have imposed a blockade.
Bangui is the final leg of Francis' first African trip that has already taken him to Kenya and Uganda.