In Greece and going nowhere: The barrier blocking migrants' hopes of a new life in Western Europe
Comments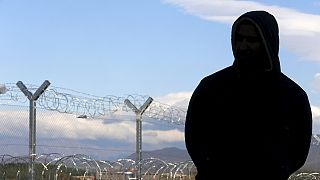 Tension remained high on Sunday on the border with Greece after the Former Yugoslav Republic of Macedonia built a barrier this weekend to control the flow of migrants and refugees heading to Western Europe.
Those from Syria, Iraq and Afghanistan are being let through. Others are not.
The move has been criticised by human rights groups who say international conventions require countries to treat asylum requests on merit, not on the basis of nationality.
The restrictions are creating a build-up on the border and on Saturday clashes broke out. Migrants threw stones, Macedonian police fired tear gas and stun grenades. Up to 40 people were injured.
But according to the Red Cross, more people are arriving at the border all the time.
Migrants' clothes drying in the cold weather in #Idomeni. Many are still stranded near the border. #ProtectHumanitypic.twitter.com/gKy7qOIFnm

— IFRC (@Federation) 29 Novembre 2015
Aid groups are working to help them but the plight of those stranded is dire and a long winter lies ahead.
"I've been here in #Idomeni, Greece, for 10 days, not able to continue north" Rachid from Morocco. #ProtectHumanitypic.twitter.com/RZpDQpRC8D

— IFRC (@Federation) 29 Novembre 2015
The number of migrants making the journey to Europe has risen dramatically this year compared to 2014.
Germany expects roughly 1 million refugees and migrants to arrive this year alone.