Three killed in shooting at Colorado abortion clinic
Comments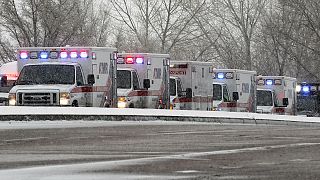 Three people, including one police officer, have been killed after a gunman opened fire at an abortion clinic in the US state of Colorado.
Nine others, including another five officers, were wounded in the attack.
A man was eventually arrested, almost five hours after the siege began at the Planned Parenthood centre in Colorado Springs. Police believe he acted alone.
"The individual brought some items into the building with him and then we had to work with our Explosive Ordnance Unit, to make sure that none of those items were of further hazard to the people on the scene," explained Lt. Catherine Buckley, of Colorado Police.
Anti-abortion activists have repeatedly targeted the Colorado Springs clinic with protests. The facility is part of a national not-for-profit group, which runs more than 700 centres across America.