USA: estimates suggest early Black Friday sales not up to the mark
Comments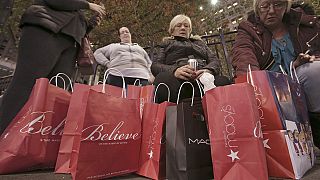 Cheers could be heard outside shops US-wide as Black Friday sales kicked off slightly earlier than usual.
In an effort to compete with online retailers, many stores opened their doors on Thanksgiving afternoon – traditionally a national holiday.
Some shops were packed full, with long lines of people queuing for the chance to snap up a bargain.
So, was it worthwhile? Yes, according to this New York shopper:
"Yes, it was worth coming out to get my stuff, versus sitting in front of the computer. Because you can't get this online. You really have to come in the store to get it. But I was happy I did," she said.
However, mother Kimberley Turner, said she was not as impressed with what was on offer as she was in 2014, saying:
"I actually think the deals were better last year."
Online sales up?
However, initial estimates suggest online sales have actually jumped, while shoppers appeared less likely to go out to stores.
Up to 20 percent of holiday shopping is expected to be done over Thanksgiving weekend. It's a serious business, with eager shoppers even camping outside one store in Chicago.
The final two months of the year are crucial for US retailers as they can account for anywhere between 20 and 40 percent of annual sales.
But its not limited to the US. Across the Atlantic, some 77 percent of British retailers are also cashing in on the action.
Black Friday 2015 is here - what and where are the best deals? 6am update https://t.co/HOW8CvW51kpic.twitter.com/eAQ8qVqwuU

— The Telegraph (@Telegraph) November 27, 2015
In 2014, the supermarket Asda – the UK's version of Wal-Mart – hit the headlines when frenzied shoppers battled each other for the opportunity to pick up a bargain. It has vowed not to participate in this year's Black Friday madness.
It seems to be keeping its word. Despite a number of television and online adverts for the event from other stores, so far there appears to have been no mention of Black Friday from Asda…
Our classic pumpkin pie #recipe is sweet and lightly spiced – perfect for a winter feast: https://t.co/FdRctJ7Di2pic.twitter.com/pXFkwFKmAN

— Asda (@asda) November 26, 2015