Germany's Cabinet backs military support for fight against ISIL
Comments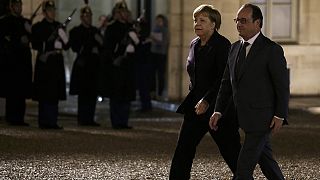 Under pressure from Paris, Germany's set to help in the fight against ISIL militants.
Tornado reconnaissance jets are being pledged, along with a warship to help protect France's aircraft carrier in the eastern Mediterranean.
Tanker aircraft could help refuel warplanes in the air and satellite surveillance technology is also likely to be given.
"France asked for our help and we've talked about how we could respond to their request. Above all, we can provide three components: protection, reconnaissance and logistics," said Ursula von der Leyen, German Defence Minister.
Chancellor Angela Merkel pledged the support during recent talks with French President Francois Hollande.
The support has now been backed by the Cabinet and is expected to win parliamentary approval next week.
The military move is a shift for Germany. But Berlin still has no plans to join France, the United States and Russia in carrying out air strikes in Syria.