French bombers target so-called Islamic State facilities in Raqqa
Comments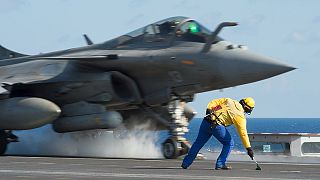 French jets taking off from the Charles de Gaulle aircraft carrier along with six bombers from an air base in Jordan have hit targets occupied by the so-called Islamic State over Raqqa.
A statement from the French military said its planes had destroyed several facilities including a command centre and an area used for maintenance.
The presence of the country's flagship carrier in the eastern Mediterranean has tripled the French air force's firepower by boosting the number of planes targeting the militant jihadist group to 38.
At a meeting on Monday British Prime Minister David Cameron offered support to the French President Francois Hollande including air-to-air refueling services.
The PM will put his case for British jets to take part in bombing missions against ISIL in Syria on Thursday.