Radicalised Muslims 'are victims', says top Brussels imam
Comments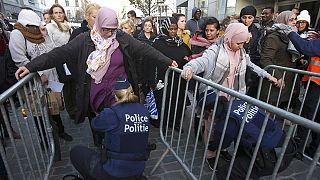 Belgium's Muslim community say they have been shocked by recent events in Paris and Brussels.
euronews's Charles Salamé on Thursday interviewed the imam of the Belgian capital's Great Mosque, Mohamed Galaye Ndiaye.
He told euronews that Muslims in Brussels are upset that their faith "is once again in the dock", adding that young, radicalised Muslims are "victims" because they often come from poor, disadvantaged backgrounds.
Charles Salamé, euronews: Mr. Mohamed Galaye, Imam of the Great Mosque of Brussels. What are your feelings and your messages regarding the recent events in Paris?
Mohamed Galaye, Imam of the Great Mosque of Brussels: Listen, we heard about this event with a feeling of dread and a kind of sadness twice over. Sadness for the people of France and the whole of France, to whom we send our sincere condolences, and sadness because it is Islam that is once again in the dock. Every time there are attacks of this nature, you could to ask us what our feelings are; what our point of view is on this? And we are always there to condemn it and we do condemn it. But what are the authorities really doing to eradicate this phenomenon that today we call terrorism? It is the enemy of all mankind.
euronews: What precisely are you doing to fight against this wave of radicalisation?
Mohamed Galaye: Today, we point the finger at the Molenbeek district. If we look at the facts, we can see that first of all these radicalised young people are victims. Why? Because in these run-down neighbourhoods, as in the French suburbs, we find young people failing at school, petty crime, job losses or unemployment. Their parents are divorced and so they find themselves in desperate situations. So those who look to recruit people for such attacks or to cause harm, they target these people.
euronews: But failing at school, poverty. That's everywhere. It's present in all cultures and religions. Why is there this radicalisation inside Islam?
Mohamed Galaye: It's not happening inside Islam. It is about people who are wearing the name of Islam. They act in the name of Islam to political ends or otherwise. Sometimes through hatred for the waste. You also have to look at the discontent about what's happening in the Arab world right now, in Iraq, in Palestine and elsewhere. People here sometimes mix things up; they make links with those who act in the name of Islam.
euronews: Are you for or against deporting radical preachers?
Mohamed Galaye: That's a job for the government. The problem is the word 'radicalisation'. It's the subject of a huge polemic today. How can you define if someone is radical? Is it because someone has a beard that we call them a radical? We have to concentrate on violent jihad and those who act violently; those who hate the West and other human beings. We consider those people to have been radicalised. But it isn't just because I'm wearing Islamic dress or that I have a beard or that I go to the mosque that makes me a radical.