New York mayor downplays terror threat video
Comments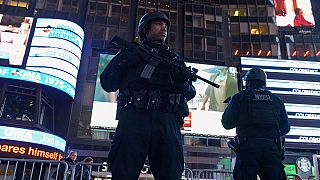 Mayor Bill de Blasio has issued a message of reassurance for New York City, not to worry about any terrorist attack.
This comes in response to a newly released video by the radical Islamic State movement suggesting that America's most populous city is a potential target, in a way similar to Paris last Friday.
De Blasio said: "There is no credible and specific threat against New York City. The people of New York City will not be intimidated. We understand it is the goal of terrorists to intimidate and disrupt our democratic society. We will not submit to their wishes."
The nearly six-minute video portrays New York, Paris and bomb preparations. The FBI said it would investigate. But Police Commissioner William Bratton agreed with the mayor. De Blasio encouraged New Yorkers to "go about their business" while remaining watchful.