A new, uneasy alliance takes shape to fight Daesh in Syria
Comments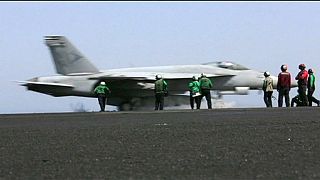 France is intensifying its air raids against Daesh targets in their headquarters of Raqqa in Syria. Since October Paris has been taking part as a coalition member taking the fight to the Islamic extremists, but until last Friday had only struck five times. In Iraq French pilots have been flying sorties for a whole year. The Friday 13th attacks have changed everything.
The French National Assembly gathered in Versailles for a rare joint session on Monday where President Francois Hollande told them the country was now at war, and a new coalition was needed to destroy Daesh.
"We need a regrouping of all those who can really fight against this terrorist army in one big, single coalition. It is with this in mind that I will be meeting Presidents Obama and Putin in the days to come with a proposition to unite our forces," said Hollande.
Four days after the Paris attacks, and following a telephone call with Hollande, Vladimir Putin gave orders to his military staff to co-ordinate efforts with the French. When the aircraft carrier Charles de Gaulle arrives in the eastern Mediterranean in the next few days France will have 36 planes available in-theatre.
"Very soon a French navy group headed by an aircraft carrier will arrive in your zone of operation. You need to establish direct contact with the French and work with them as allies," ordered Putin.
Since September the Russians have been waging their own air war in Syria in support of President Bashar al-Assad. Critics claimed most of their airstrikes were against rebel, not Daesh forces.
Now that Daesh's bombing of a Russian airbus full of tourists in Egypt on October 31 has been confirmed, Moscow is gunning even more for the Islamic extremists.
"We should not apply any time limits, we should know them all by name. We will search for them everywhere – wherever they are hiding. We will find them in any spot on the planet and punish them," said Putin in a speech reminiscent of the one he gave when he was Boris Yeltsin's prime minister in 1998, and charged with hunting down Chechen terrorists.
Turkey has also been more active against Daesh since July, when its planes started carrying out airstrikes in Syria, and the coalition was allowed to use Turkish air bases.
America is leading that coalition. On Wednesday the Turks and Americans said they would be stepping up their efforts another notch.
Their priority is to expel Daesh from the 100 or so kilometres of Syria's border with Turkey that it controls, between Azaz et Jarablus. That would cut supply lines, and export routes for Syria's oil, which Daesh now all-but-controls, and which it sells to finance its operations.
"My firm conviction is that we need to act against ISIL in Syria," said British Prime
Minister David Cameron on Tuesday. He is to ask parliament to approve a plan against Daesh, and to strike at it in Syria from the air. The RAF already takes part in air operations in Iraq.