Police probe France's 'first female suicide bomber'
Comments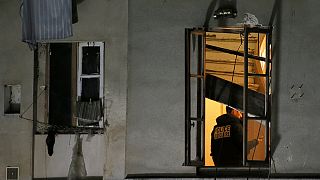 One of two people who died in the police raid in Saint-Denis was a woman who police say detonated a suicide belt she was wearing.
She's been named in the French media as Hasna Aitboulahcen, 26, and is said to be the first female suicide bomber in France.
Socioligist Carole André-Dessornes has written a book on so-called 'female martyrs'.
"It seems that she may have been the cousin of the mastermind of Friday's attacks," she said. "She will have lived in an environment that also fostered this. And there's another phenomenon which is important with respect to this. It's what we call the mimetic effect – a group illusion that their actions can inspire others to follow."
The speculation that she was the cousin of Abdelhamid Abaaoud, the alleged mastermind of the Paris attacks, has not been confirmed.
Police are, however,said to be trying to establish whether she warned other suspects as the raid began as she is believed to have made a phone call before her death.
Audio recorded by a Saint-Denis resident and passed to French broadcaster TF1 is said to cover the final moments before her suicide vest was detonated.
A police officer is heard shouting: "Where is your boyfriend?" A female voice responds: "He's not my boyfriend." Next, a loud explosion, thought to be the suicide vest being detonated.
#SaintDenis > La femme kamikaze était la cousine du cerveau présumé des #ParisAttacks
>> https://t.co/2cOBlNDVj2pic.twitter.com/zrz4Zh5hQr

— iTELE (@itele) November 18, 2015