Paris attacks: two suspects dead and seven people arrested in Paris suburb raid
Comments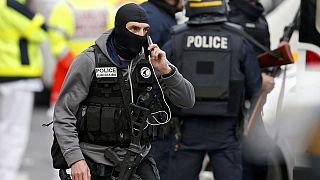 Two of the suspects in the Paris attacks are dead and seven people have been arrested after security forces raided an apartment in the Saint Denis area of the city early Wednesday morning.
The operation during the early hours of the morning resulted in a fierce gun battle and a series of explosions.
Police said one of the dead suspects was a woman who detonated a suicide vest, while the other was killed either by grenade or gunfire.
The authorities had been acting on information that the suspected mastermind of the attacks, "Abdelhamid Abaaoud"http://www.euronews.com/2015/11/18/paris-attacks-who-is-abdelhamid-abaaoud/, might have been holed up in the apartment.
It's not yet been revealed if he is one of the dead or arrested people.
The Saint Denis area is close to the Stade de France where the Paris attacks started on Friday evening, resulting in 129 deaths and over 300 people injured.
The authorities say all the victims have now been identified.
Many people had to be moved from their homes during Wednesday morning's operation, schools had to remain closed and most local transport was suspended.
Five police officers suffered minor injuries.
Authorities said three men were arrested in the apartment. Two others were found hiding in rubble and a further two – including the man who provided the lodging – were also detained.
L'opération en cours est terminée MAIS le périmètre de sécurité reste en place. Ne sortez pas de chez vous. https://t.co/blgCO7mDti

— Ville de Saint-Denis (@VilleSaintDenis) November 18, 2015