Witnesses speak of frightening events in Saint Denis
Comments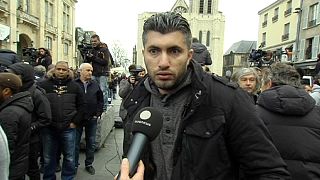 The public was nowhere to be seen in St Denis on Wednesday morning.Those living the closest to the terrorist hideout were told to stay indoors. Those who lived close were kept back. Only in the early afternoon did normality resume, and then residents were keen to relate what they had been through.
"I heard bursts of gunfire so I went downstairs into the street, as I was already dressed.I'd gone to sleep fully dressed, I guess I must have felt something was up, I don't know why I went to sleep clothed. So I went out and there were loads of people in the square here and I went to stand somewhere I thought was safe to watch. Suddenly the police told us to leave and in an instant the square was empty," said one man.
"I live in the building next door. Around two o'clock I heard a big explosion, and two minutes after I heard gunfire, an exchange of fire between the police and the members of Daesh. The exchange was so intense that we barricaded ourselves in our bathroom. It lasted from 2 to around 3.30, non-stop. I live with my girlfriend, and she was scared so she stayed in the bathroom. I went close to window to see what was happening and then I heard grenades explode, and then submachine guns and Kalashnikovs opened up."
This witness, a Kurd from Kobane who might have thought he had escaped from scenes like these, took film on his mobile phone.
"French special forces made me come out with my hands above my head, and made it clear that if I dropped them they'd shoot. When they started to evacuate us from the other side, from over there, behind those buildings there's a shopping centre, I saw a man running carrying a Kalashnikov, and the police were right here…It was like a scene from a war movie," he says with a nervous laugh.